Translator in Residence Program
The MFA in Literary Translation at the University of Iowa hosts two Translators in Residence, one each semester, who live and write for five weeks in Iowa City, teach a translation workshop at graduate or undergraduate level, and mentor students on the practice and profession of literary translation.
The translation workshops are mixed-genre and multilingual, with students translating into English from diverse languages--ranging in a given semester anywhere form five to over ten languages.   While the Translator in Residence can translate from any language and work with any genre, successful experience with such a multilingual learning setting is highly desirable.  Equally desirable is a record of professional accomplishments as a literary translator, including notable publications, awards and other recognition.  
There is some degree of flexibility regarding the dates when the residency begins and ends, so long as it is five week long at minimum, and takes place during Fall or Spring semester.  Please make sure to indicate in your letter your preferences re: semester and year in which you'd like to hold the residence.
The Iowa Translation Workshop celebrated its 50th anniversary in 2015 and remains pivotal in the promotion of international writing in English. The University houses the International Writing Program, MFA programs in Poetry, Fiction, Creative Nonfiction, Playwriting, and Spanish MFA in Creative Writing. The first UNESCO City of Literature in the United States, Iowa City is an exceptionally attractive place for creative writers and literary arts, featuring year-round events and programs, including IWP's 30+ international writers in residence each fall, the City of Literature Book Festival, the plethora of readings at the Prairie Lights, the Mission Creek Festival, among others. The MFA in Literary Translation also hosts Translation Talks @ Iowa each spring, welcoming renowned translators to campus.
How to Apply
Please email to aron-aji@uiowa.edu the following:
Letter of Interest (that speaks to the desirable qualifications)
Description of the Project you would like to work on while in residence
Biography OR copy of Curriculum Vita
Statement of Teaching Philosophy
The Translator in Residence position carries $6500 stipend, plus living and travel allowance.
Review of Applications will begin on December 1st, and continue until the positions are filled for the next academic year.
Please visit our website for information about the MFA in Literary Translation at Iowa.
Previous Recipients
Fall 2021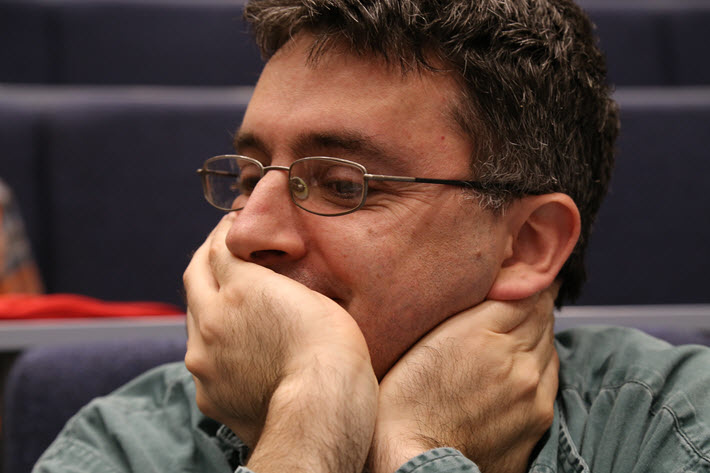 Daniel Hahn is a UK-based translator, editor and writer with sixty-something books to his name. His translations (from Portuguese, Spanish and French) include novels from Europe, African and the Americas, and non-fiction by writers ranging from Portuguese Nobel laureate José Saramago to Brazilian footballer Pelé. His work has won him the Independent Foreign Fiction Prize and the IMPAC Dublin Literary Award and he has been shortlisted for the Man Booker International Prize, among many others. His non-translations include the reference book, The Oxford Companion to Children's Literature. This spring he will be working mostly on translations of a Brazilian non-fiction book, a French illustrated children's book, and a play (for the Royal Shakespeare Company). A former chair of the Society of Authors (the writer's union in the UK) and the Translators Association, he is on the board of a number of organizations that work with literature, translation, and free speech.
 
Spring 2021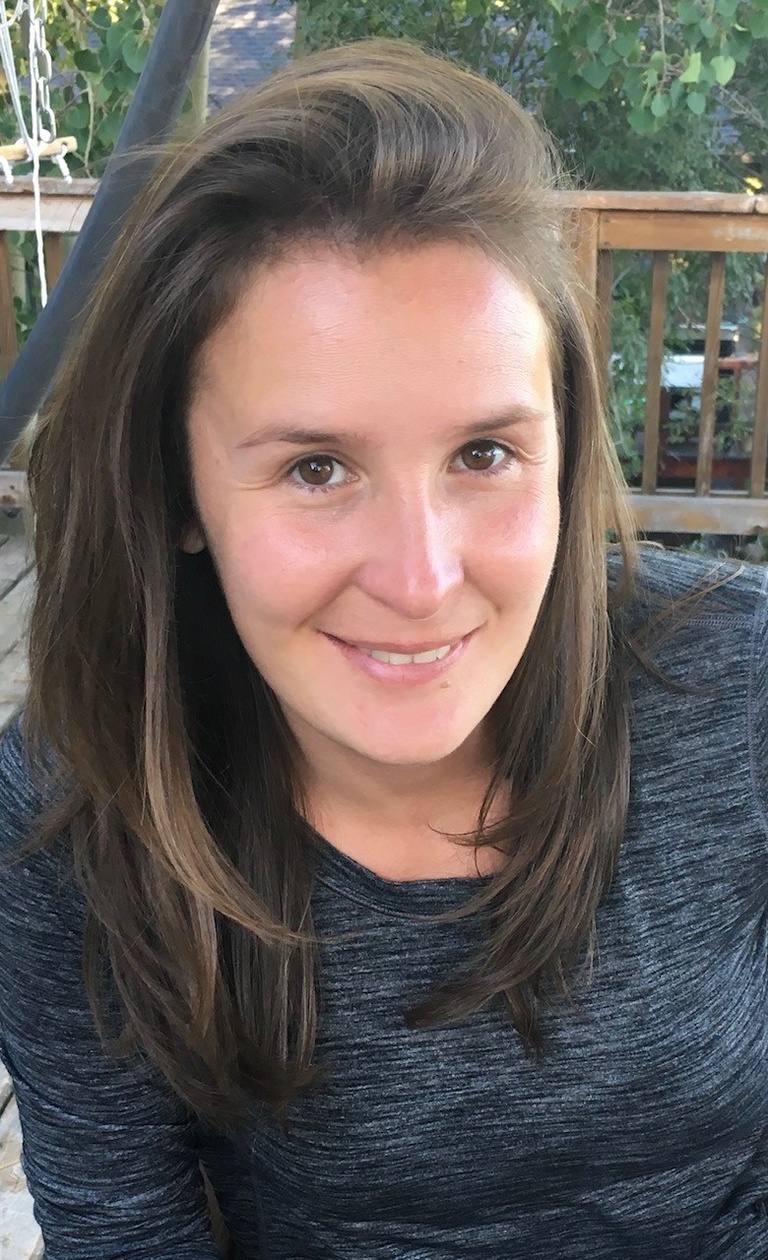 Alana Marie Levinson-Labrosse is an Assistant Professor in the English department at the American University of Iraq, Sulaimani, where she founded the department in 2011. She earned her PhD in Kurdish Studies at the University of Exeter, specializing in nineteenth century poetry. A poet and translator, her book-length works include Kajal Ahmed's Handful of Salt (The Word Works, 2016) and Abdulla Pashew's Dictionary of Midnight Translation, Words Without Borders, In Other Words (British Center for Literary Translation), Sewanne Review, The Iowa Review, and World Literature Today. She currently serves as the Founding Director of Kashkul, the center for arts and culture at the American University of Iraq, Sulaimani, as a board member for Zheen Archive in Sulaimani, and as Interim Director for Sulaimani City of Literature, having led the city's successful application to join the UNESCO Creative Cities Network.
Spring 2020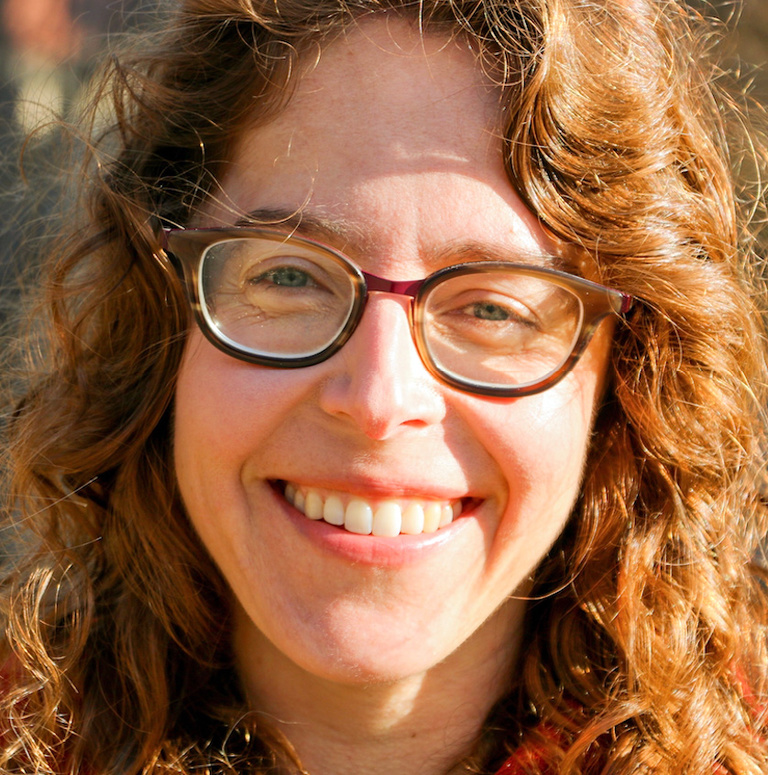 Annie Janusch's translations include works by Jürgen Goldstein, Wolf Haas, Anja Kampmann, Heinrich von Kleist, and Uwe Tellkamp. She has been the recipient of fellowships from the National Endowment for the Arts and the Robert Bosch Foundation. Janusch is currently a visiting lecturer in the University of Chicago's creative writing program, where she teaches workshops in literary translation and is fiction editor for Chicago Review.

 
Fall 2019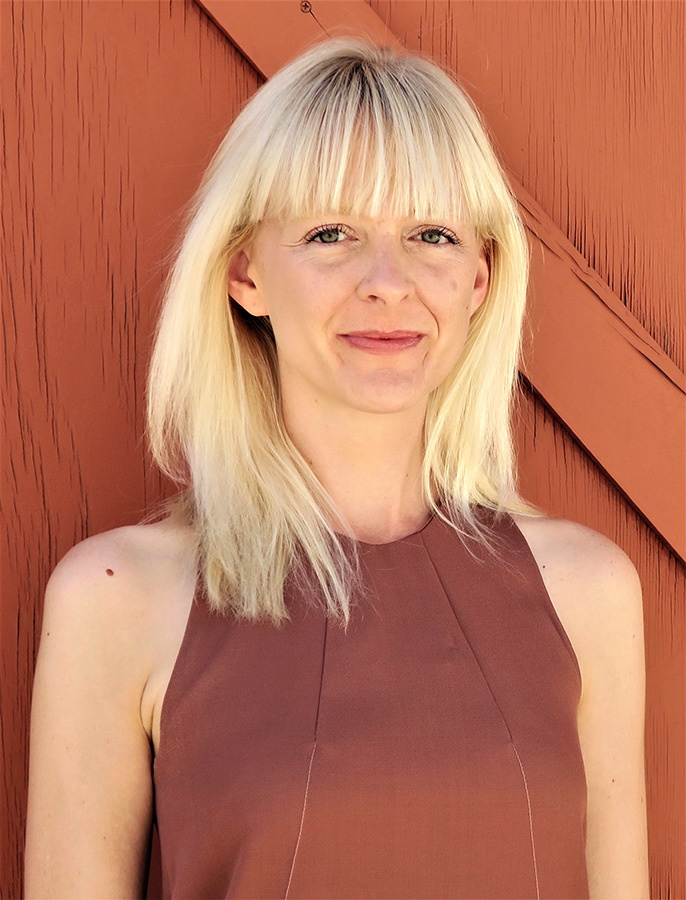 Jennifer Croft works from Polish, Ukrainian and Argentine Spanish. With the author Olga Tokarczuk, she was awarded the 2018 Man Booker International Prize for her translation of Flights. Croft is the recipient of Cullman, Fulbright, PEN, MacDowell, and National Endowment for the Arts grants and fellowships, as well as the inaugural Michael Henry Heim Prize for Translation and a Tin House Workshop Scholarship for her memoir Homesick, to be released in September.


 
Spring 2019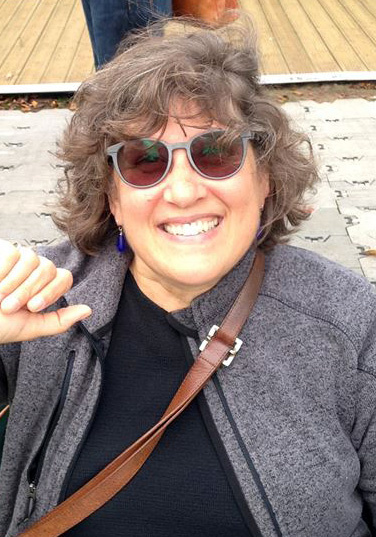 Ellen Elias-Bursac has been translating novels and non-fiction by Bosnian, Croatian, and Serbian writers since the 1980s , including writing by David Albahari, Ivana Bodrožić, Daša Drndić, Igor Štiks, Dubravka Ugrešić, Karim Zaimović. ALTA's National Translation Award was given to her translation of Albahari's novel Götz and Meyer in 2006. She taught for ten years in the Harvard Slavic Department, co-authored a textbook for the study of Bosnian, Croatian, and Serbian, and worked for over six years at the International Criminal Tribunal for the former Yugoslavia in The Hague, Netherlands in the English translation unit. Her book Translating Evidence and Interpreting Testimony at a War Crimes Tribunal: Working in a Tug-of-War was given the Mary Zirin Prize in 2015. She is the vice-president of the American Literary Translators Association.
Fall 2018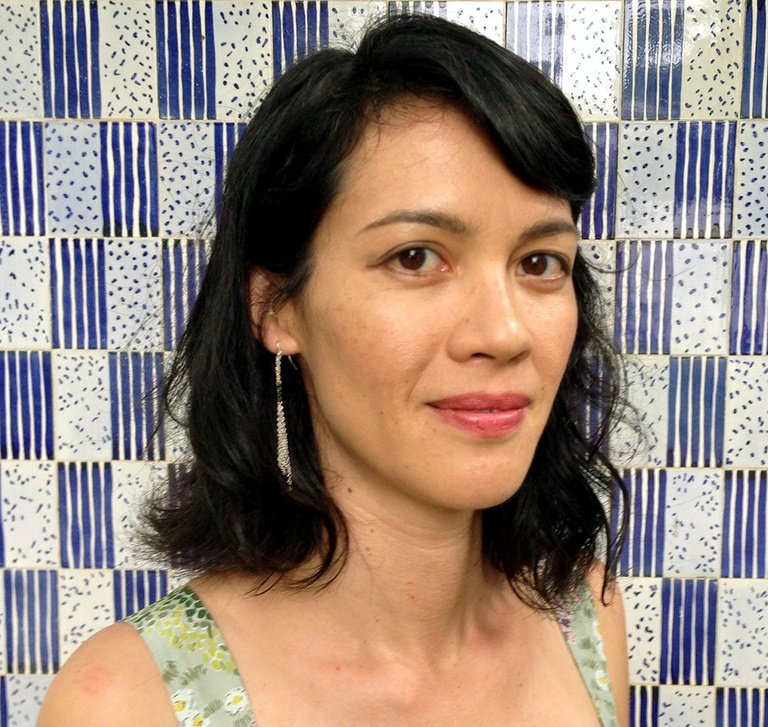 Katrina Dodson is the translator from the Portuguese of the Complete Stories by Clarice Lispector (New Directions, 2015), winner of the 2016 PEN Translation Prize, the American Translators Association Lewis Galantière Prize, and a Northern California Book Award. She is currently adapting her Lispector translation journal into a book and translating the 1928 Brazilian modernist classic, Macunaíma, the Hero Without a Character, by Mário de Andrade (New Directions, 2019). Dodson recently edited a new translation of Ana Cristina Cesar's poetry collection A teus pés (Parlor Press, 2018). She holds a PhD in Comparative Literature from the University of California, Berkeley, with a dissertation on Elizabeth Bishop in Brazil and a Designated Emphasis in Women, Gender, & Sexuality. Dodson has taught Comparative Literature and Portuguese at UC Berkeley. She was also a mentor at the Mills College MFA in Translation Program and on the faculty of the Bard College Language & Thinking Program. She has spent over four years in Brazil, first as an English teacher in 2003 and later as a Fulbright scholar. Dodson was born in San Francisco to a Vietnamese mother and American father and now lives in New York.
Spring 2018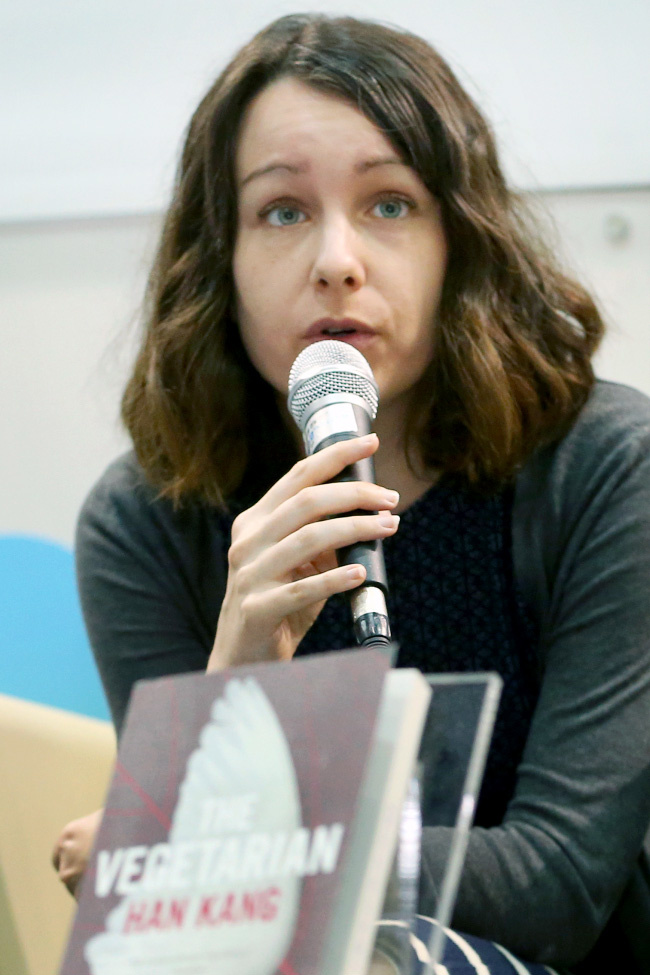 Deborah Smith began learning Korean in 2010, after a BA in English, moving to London to pursue an MA and PhD in Korean literature at SOAS. She has been translating Korean literature since 2012, focusing mainly on the work of two authors, Han Kang and Bae Suah, and has completed three books by each – The Vegetarian (winner of the 2016 International Man Booker Prize), Human Acts, and The White Book, all by Han Kang, and A Greater Music, Recitation, and The Owls' Absence, by Bae Suah. In 2015 Deborah founded Tilted Axis, a non-profit press focusing on cult, contemporary fiction translated from Asian languages, mainly by women. So far, their list includes books from Bengali, Korean, Thai, Uzbek, and Japanese. In 2016 she won the Arts Foundation Award for Literary Translation for her work as a translator both on and off the page, which includes teaching, mentoring, consultancy and reviewing. She also won an LTI Korea Award for her translation of The Vegetarian. She tweets as @londonkoreanist...but now lives in Sheffield.
Fall 2017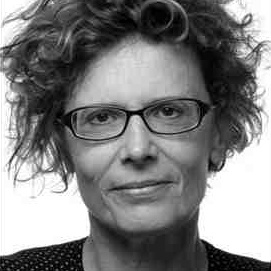 Lisa Katz's translations include Late Beauty: a bilingual selection of the poetry of Tuvia Ruebner, (with S. Bram) Zephyr Press (2017);  Suddenly the Sight of War: nationalism and violence in Hebrew poetry of the 1940s by Hannan Hever,Stanford (2016); Approaching You in English: a bilingual selection of the poetry of Admiel Kosman  (with S. Naim-Naor) Zephyr (2011); Look There: New and Selected Poems of Agi Mishol  Graywolf  (2006). Editor of the Israeli pages of the Poetry International Rotterdam web site for world poetry, her translations have appeared recently in Poetry, MPT, Guernica,Consequence, World Literature in Translation and the New York Times. She is the author of a chapbook, Are You With Me, Finishing Line (2016) and Reconstruction, a volume of her poetry in Hebrew translation, Am Oved (2008); also in 2008, she was awarded the Mississippi Review Poetry Prize and a Ledig House International Writers Residency.  Katz taught literary translation at Hebrew University for a decade and most recently at Ben Gurion University of the Negev in Spring 2017. Born in New York, she studied at the University of Michigan (BA English) and the City College of New York (MA Creative Writing), receiving a PhD (on the poetry of Sylvia Plath) from the English Department of the Hebrew University in Jerusalem, where she has lived since 1983.
Spring 2017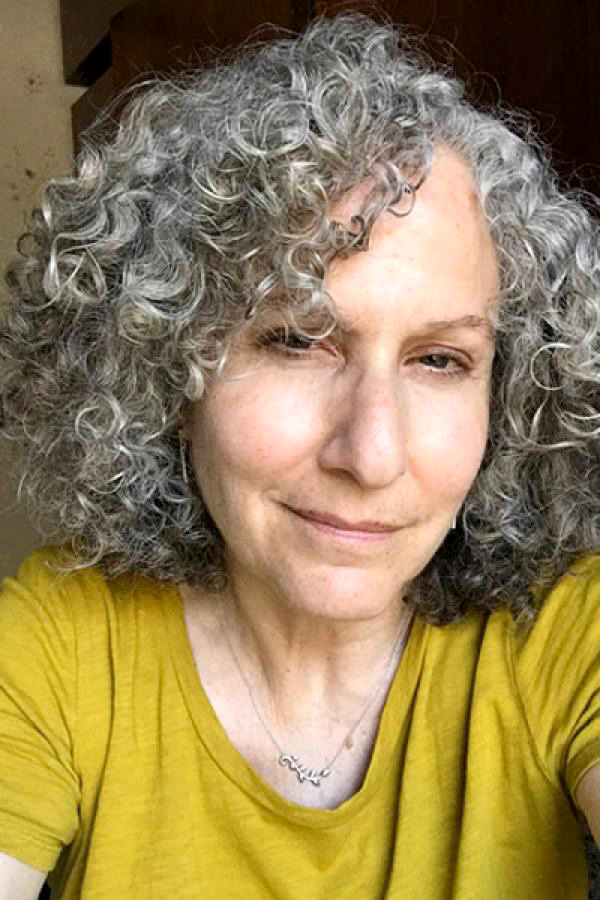 Elizabeth Harris holds graduate degrees in creative writing (fiction) from Johns Hopkins University and the University of Arkansas, where she also earned an MFA in literary translation. Her translations appear in anthologies and in literary journals like AGNI Magazine, The Kenyon Review, The Literary Review, The Missouri Review, New England Review, Words Without Borders, and elsewhere. Her translated books include Mario Rigoni Stern's novel Giacomo's Seasons (Autumn Hill Books); Giulio Mozzi's story collection This Is the Garden (Open Letter Books), a long-list finalist for the National Translation Award; and Antonio Tabucchi's novel Tristano Dies (Archipelago Books), for which she received a PEN/Heim Translation Fund Grant. Currently, she is translating Tabucchi's For Isabel: A Mandala (forthcoming with Archipelago Books). Harris has held translation residencies at the Banff International Literary Translation Centre and La casa delle traduzioni in Rome. She has also been a judge for The Best Translated Book Award and the NEA Fellowship Program in Literary Translation.  She is currently a professor of creative writing at the University of North Dakota.
Fall 2016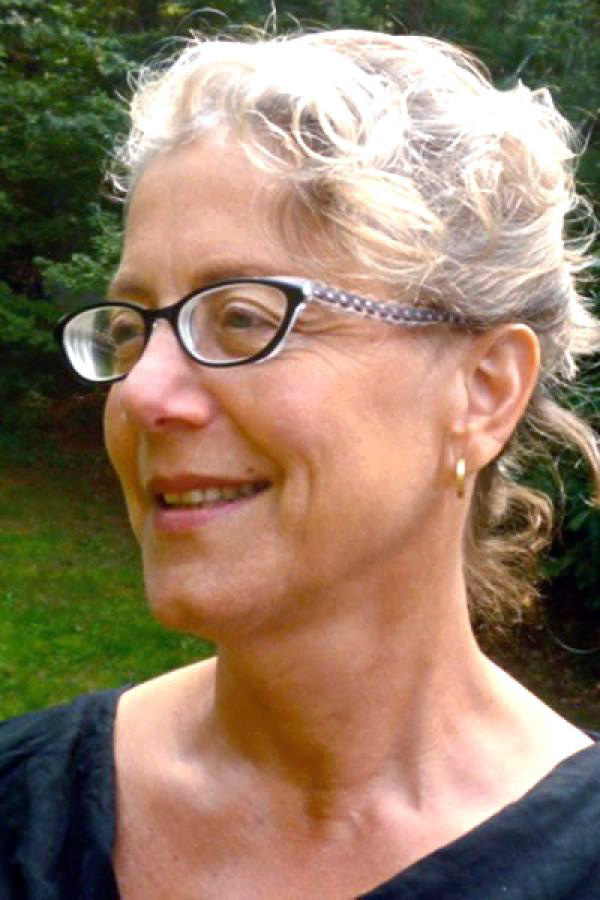 Katherine Silver has been translating mostly Latin American literature for over thirty years. She has translated and published more than thirty books and countless other texts, many of which have been honored by critical acclaim, awards, prizes, and other recognitions. Her most recent and forthcoming translations include works by Martín Caparrós, Julio Cortázar, Daniel Sada, Horacio Castellanos Moya, and César Aira. Throughout her career she has also translated plays, screenplays—some for major motion pictures—and a wide assortment of academic and other nonfiction books. In a former life, she taught English as a Second Language in the U.S. and around the world. For many years, she worked in publishing as an editor and editorial manager, and still does editorial and consulting work with several publishers. For several years she has led weekend workshops at the Yiddish Book Center and served as a mentor to their fellows. She just recently stepped down as director of the Banff International Literary Translation Centre in Alberta, Canada, where she still serves on the advisory council. She lives in Berkeley, California, and has two children, aged 24 and 21.